Are you planning a vacation to Bali and want to visit famous tourist attractions in Bali, one of which is the Kintamani tourist attraction?
Bahasa Indonesia, Tempat Wisata Kintamani – Pesona Keindahan Alam Pegunungan Bali.
If you answer yes, then on this page, you will get complete information about the Kintamani Bali travel guide. The information you will get such as;
General Information About Kintamani.
Residents.
Kintamani Tourism Attraction.
Location of Kintamani Tourist Attractions.
Distance & Travel Time.
Transportation Options Towards Kintamani Tourist Attractions.
Kintamani Tour Packages.
Bali Rent Car With Driver.
List of Tourist Attractions in Kintamani Bali and Surrounding Areas.
Kintamani Penelokan Village.
Lake Batur.
Mount Batur.
Hot Springs at Kintamani Tourist Attractions.
Ulun Danu Batur Temple.
Shopping Activities at Kintamani Tourist Attractions.
Entrance Ticket Prices for Kintamani Tourist Attractions.
List Of Kintamani Bali Travel Guide
Before I write about the Kintamani Bali travel guide and the best place to visit in Kintamani, it will be better if you know the general information about Kintamani Bali. Also, if you want to try Bali river rafting, please make a booking with us.
Read More, Places To Visit & Things To Do In Bali.
Kintamani General Information
The Kintamani tourism area is located in the northeastern part of Bali island and is under the Mount Batur caldera. Mount Batur is one of the second most active volcanoes in Bali. Besides the active Volcano, the Kintamani visitors can also see Lake Batur's view.
Within the Kintamani area, there are several villages. Such as Penelokan village, Abung village, Songan village, Toya Bungkah village, Batur village, Kedisan village, and Kintamani village, which fall under the Bangli regency government.
Most visitors who vacation to one of the communities mentioned above know the area as Kintamani, even though there are visiting Penelokan village or other villages.
See Here Bali Nature Tourism.
Three Famous Villages
Three famous villages are the best location to see Mount Batur and Lake Batur views. Namely Penelokan village, Batur village, and Kintamani village, because of the village's position on the highlands. Besides seeing the natural scenery of the mountains and lakes, travelers who have vacationed at Kintamani Bali also love soaking in natural hot tubs in Toya Bungkah.
In addition to natural attractions, there are also temple attractions in the Kintamani area, namely Ulun Danu Batur temple. For your information, Ulun Danu Batur temple and Ulun Danu Beratan temple are two different Balinese Hindu temples because Ulun Danu Beratan temple is located in the middle of Lake Bratan Bedugul tourism area.
Read More, Ulun Danu Bratan Temple Bedugul Entrance Fee – Bali Temple By The Lake.
Kintamani Bali Local Residents
The indigenous people of Kintamani are amiable, and most of the population work as farmers. Due to this area's potential for agricultural land supported by the chilly environment and fertile soil, popular agrarian products from Kintamani Bali, such as oranges, tomatoes, cauliflower, and shallots. In addition to agriculture, the Kintamani area is renowned as a place to look for petite and dense pet dogs, called the Kintamani dog.
Related Article.
Kintamani Bali Main Attraction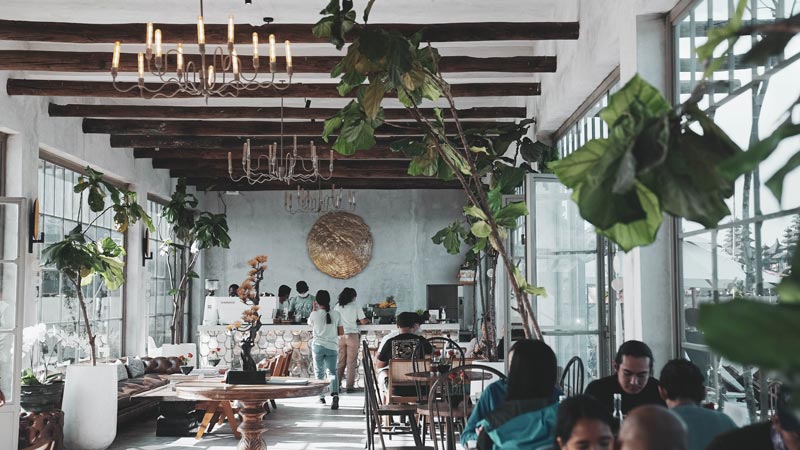 Tourism facilities in Kintamani Bali are adequate. There are many inns, hotels, restaurants, and food stalls at various prices. The Kintamani tourist area's air environment is very fresh, with frigid temperatures ranging from 22 degrees Celsius during the daytime. The air temperature in Kintamani is almost the same as in the Bedugul tourist attraction.
There are three main attraction of the Kintamani that makes travelers interested in visiting, namely;
Mount Batur and Lake Batur views, which visitors can see from the Penelokan village.
The Toya Bungkah village's natural hot springs are called Batur Natural Hot Spring Kintamani.
The cold climate and fresh mountainous air.
The most popular thing visitors do during a vacation to Kintamani is enjoying a buffet lunch while watching the beautiful scenery of Mount Batur and Lake Batur. Most of the restaurants in Kintamani serve buffet lunches, and visitors can enjoy the meal as much as they like.
Read More, Bali Honeymoon Itinerary Seven Days.
Kintamani Bali Location
Kintamani area located in Kintamani District, Bangli Regency. In addition, the Kintamani area is mountainous, with a land elevation of 1400 meters above sea level.
There are many routes to get to the Kintamani tourist area. However, vacationists who want to vacation to Kintamani are usually through the Ubud tourism area. Please click the link below to make it easier to find the Kintamani tourism area on Google Maps!
See Kintamani Tourism Area Google Map.
Distance & Travel Time
Knowledge of the time and distance from one tourist area in Bali to another will significantly affect the quality of your holiday on the island of Bali. By knowing the space and travel time, you will easily make an efficient Bali holiday itinerary.
Here are some examples of the distance & travel time to Kintamani from some of the famous tourist attractions in Bali. The Kintamani area is extensive. I will use the benchmark of one tourist spot in Kintamani, the Kintamani Lookout area, which is in the Central Batur area.
Transportation Options
Most travelers who vacation on the island of Bali will choose a place to stay in southern Bali. Like Kuta, Legian, Seminyak, Canggu, Tanjung Benoa, Nusa Dua, Jimbaran, Sanur, or Ungasan. Several travelers also love to select a place to stay at one of the hotels in the Ubud area.
Due to the above location being a favorite place to stay far from the Kintamani area, travelers will need transportation. There are many choices of vacation transportation on the island of Bali. Below are the options I have sorted according to the criteria of visitors who are having a vacation to Bali for the first time.
1. Book the Kintamani Tour Package
For those of you who are on your first holiday in Bali and want to visit the attractions in Kintamani, the best way is to book a Kintamani tour package.
There are many Kintamani tour package service providers on the island of Bali. There is a choice of Kintamani tour packages, including hotels, and there is also a choice of tour packages to Kintamani Bali without hotels. Several reasons make me suggest you order a Kintamani tour package;
The vacation itinerary with an efficient route. Therefore, you will speed more vacation time at the place you want to visit instead of the car.
Also, you do not have to bother taking care of the holiday itinerary because the tour package providers in Bali will create it for you.
The tour package includes transportation (driver, cars, fuel) and car parking fees. So you don't need to take care of looking for Bali rental car services with a driver.
The tour package includes meals and entrance tickets to tourist attractions in Bali that are covered on your holiday itinerary.
Read More, 10 Information To Understand When Planning Bali Itinerary To Be Effective & By Passion.
Kintamani Tour Itinerary Example
Examples of Kintamani tour holiday itinerary if you stay in the Ubud Bali tourist area.
For those of you who stay in the southern part of Bali, below is an example of a Kintamani tour itinerary;
2. Rent a Car in Bali with a driver
If you are not familiar with the tourist attractions area in Bali and have the possibility of making sudden itinerary changes while in Bali, so the best way to have a vacation to the Kintamani area is to use a Bali car rental service with a driver.
Also, by using a car rental in Bali with a driver, finding a car park is your driver's job. Therefore, you can immediately stop at the attraction entrance gate.
On the island of Bali, there are many car rentals with driver providers. The car rental choices include the Toyota Avanza, Toyota Innova, Microbus Isuzu Elf, Microbus Toyota Hiace, and tour buses.
For example, the price of a Toyota Avanza car rental in Bali with a driver includes fuel, IDR 600,000 / 12 hours. With the 12 hours car rental duration of one day, you can visit many attractions on the island of Bali.
See Here, Telaga Waja River Rafting.
3. Rent a Motorcycle
Finding motorbike rental services in Bali is very easy. Besides that, motorbike rental prices in Bali are meager, with a rental price of IDR 100,000 – IDR 200,000.
Using a motorcycle while on vacation in Bali is usually chosen by tourists who want to save on transportation expenses and are familiar with the Bali roads.
For your information, road traffic in Bali is quite messy, so if you decide to use a motorbike, you need to be right on riding a motorcycle.
See Holiday Guide to Penglipuran Village Bali.
List of Best Place To Visit In Kintamani and Its Surroundings
In the Kintamani Bali tourism area, is there anything interesting to see?
Kintamani tourism area has several exciting tourist attractions located close to each other. Therefore, the Kintamani tourist attraction is one of the favorite tourist destinations when vacationing in Bali.
Because it is one of the favorite tourist destinations in Bali, many travel agents offer tour packages in Bali with holiday itineraries to Kintamani Bali.
Read More, Best Places To Visit In Bali.
Then what is the list of tourist attractions in Kintamani and surrounding areas that are worth to have a visit?
1. Penelokan Village Kintamani
One of the places most visited by tourists while on vacation to Kintamani is Penelokan Village. Due to Penelokan village, Kintamani offers fresh air, and there are many buffet restaurants with direct access to Mount Batur view and Lake Batur view from a height.
Penelokan Village Kintamani is one of the best places to see Batur Lake and Mount Batur scenery. While visiting the Penelokan village Kintamani, most tourists will do photo activities with mountain scenery and Batur Lake backdrop. The best time to visit Penelokan village Kintamani is in the morning, around 09:00 am. Because at noon, after 12:30, clouds began to cover the mountainous area.
Read More, Ayung River Rafting Ubud.
2. Lake Batur
From mount Batur's southeast side, you will find the largest Bali freshwater lake, Batur lake. Batur lake has 6,5 kilometers long and 1,6 kilometers wide. Lake Batur is located on the slopes of Mount Batur with a crescent-shaped lake if viewed from a height. Also, most foreign sightseers call Lake Batur the most beautiful caldera in the world.
Most tourists who visit Kintamani choose to see Lake Batur's view from Penelokan village's restaurant. However, some tourists want to get around in the middle of Lake Batur by renting a speedboat.
Find Out Pinggan Village Kintamani, The Best Spot For Beautiful Fog Scenery.
3. Mount Batur / Kintamani Volcano
One of the active volcanoes on the island of Bali is Mount Batur. Mount Batur is at Kintamani; therefore, the visitor calls it the Kintamani volcano. Mount Batur is also the second-highest Volcano, after Mount Agung, located in the tourist area of Besakih Karangasem regency.
An expanse of black rocks from the eruption of Mount Batur was lovely as a location for engagement photoshoots.
Mount Batur offers the breathtaking beauty of volcano scenery. Also, if you love outdoor adventure, Mount Batur embraces people who love volcano trekking with an exceptional sunrise from the peak of Mount Batur.
Once you get to the top of Mount Batur, all you need to do is to wait for the dawn. Before you pick to do Mount Batur trekking, there are things that you need to keep in mind. Get a professional mount Batur trekking tour guide, and wear comfortable clothing due to its cold.
Also, wear shoes suitable for trekking with a good grip, and don't forget to bring your camera, DSLR with a wide lens, and tripods are recommended.
4. Kintamani Hot Springs
There is a hot spring bath at the Lake Batur edge, precisely in the Toya Bungkah village, Kintamani. Toya Bungkah Kintamani hot spring comes from spring near Mount Batur. So it's natural hot water, not an artificial hot tub and the hot water containing sulfur. Because it contains sulfur, locals believe hot water baths can cure common skin disorders.
There are two famous hot springs in Kintamani, namely;
Toya Devasya Hot Spring Kintamani.
Find Here Bali Marine Water Sports Packages.
5. Ulun Danu Batur Temple
From Penelokan Village Kintamani, heading to the northwest, you will find a Balinese Hindu temple called Ulun Danu Batur Temple. Ulun Danu Batur temple is one of the important temples for the Balinese Hindus. Also, the Ulun Danu Batur temple was previously destroyed due to the Mount Batur eruption, and the temple was rebuilt in 1926.
Furthermore, Ulun Danu Batur temple commonly calls by Balinese Batur temple. Batur temple is located around 1500 meters above sea level. The Batur temple faces west with a background of black lava covered and Mount Batur peak.
See the Ulun Danu Batur Temple Location on Google Maps.
Kintamani Bali Shopping Activities
At Kintamani, there are many places for those who want to shop for Balinese souvenirs. However, to get a reasonable Bali souvenir price in the Kintamani area, you have to be an expert in bargaining. In addition to Balinese souvenirs, Kintamani is famous for producing fresh fruits and vegetables. The most favorite fruit in the Kintamani area is the orange.
Find Here, Shopping In Bali – A Guide List Of Place To Shop, Tips & Things To Buy.
Kintamani Bali Entrance Fee
To be able to enter the Kintamani Bali tourist area, visitors are charged an entrance fee of IDR 50,000 / 1 adult and IDR 30.00 / 1 kid. You need to keep the Kintamani entrance ticket you get after paying because the entrance ticket is valid for several tourist attractions in Kintamani.
Also, there is a possibility that you will be asked to show the entrance ticket. In addition, the sample ticket is no longer like in the photo above but uses a receipt with a barcode.
Furthermore, for more information about the entrance fee to Kintamani tourist attractions in Bali, please click the link below!
Find Out Kintamani Admission Fee Price.