Heading to Bali for the first time and bombarded with questions? Whether it's about the ideal season to visit or the mystery behind those playful monkeys, we've got you covered. Dive deep into our comprehensive guide, tailored to give first-timers like you a seamless Bali experience. Whether lazing on pristine beaches or savouring delectable 'Nasi Campur', equip yourself with the insights to make your Bali debut unforgettable. So, gear up and let the 'Island of Gods' surprise you!
1. Bali Guide for First-Timers: Visa Requirements
For first-timers, understanding Bali's visa requirements is crucial for a seamless trip. Here's a brief rundown: Bali welcomes travellers from numerous countries with a 30-day visa-free privilege upon arrival. So, pack your bags and gear up for your Bali exploration!
Quick Info:
2. Bali Guide for First-Timers: Best Time to Visit
Let's break it down: If sun-soaked shores and clear blue skies are what you seek, circle April to October on your calendar. Looking to save some cash and have a penchant for the occasional drizzle?
Monsoon months might just be your cup of tea. For a more comprehensive understanding of when to visit, explore our detailed guide on When is the Best Time to Explore the Island Paradise?
Special Mention:
Experience Bali like never before during 'Nyepi' or the Day of Silence in March. It's when Bali hits the pause button—even its airport!
For a deeper dive into Bali's weather patterns, consider exploring Bali's official climate charts.
Traveller's Tip: "June offers sunny days with minor humidity. Early November is hotter. But I'd visit anytime, especially during school breaks." – Tracey M.
3. How Safe is Bali for First-Time Travelers?
In a word? Very! Bali prides itself on its hospitable aura. Whether you're soaking up the sun or navigating vibrant markets, maintaining usual travel vigilance is all it takes.
While Bali is predominantly friendly and inviting, staying abreast of typical tourist pitfalls can be advantageous. For the most recent safety tidbits, turn to the Travel Advisory Board's insights on Bali.
Traveller's Tip (from Balirunner): "Being street-smart in Bali is akin to being in Sydney. The Balinese adore kids, making it family-friendly. Ubud, Amed, Lovina, and Nusa Dua feel especially safe."
Are you unsure about where to stay during your trip? We recommend reading our article on Where to Stay in Bali: Recommendations for First-Time Visitors to make an informed choice.
4. How Can Beginners Understand Bali's Currency?
Currency Basics: Bali uses the Indonesian Rupiah (IDR), with standard denominations being 1,000, 10,000, 20,000, 50,000, and 100,000 Rupiah. As a reference, 15,000 IDR is roughly US $1, but always check current exchange rates as they vary.
Stay Updated on Rates: Platforms like XE or Wise give real-time exchange rates.
Thoughtful Money Exchange: Stick to trustworthy money changers in popular areas like Kuta, Seminyak, or Ubud. Avoid airports to get better rates. Always get your transaction receipt and be cautious if rates seem too good.
ATM Wisdom: There is plenty around, but they have a limit of around 2.5 – 3 million IDR. For safer transactions, use ATMs linked to banks. Remember, some ATMs give out 50k notes and others 100k, so if you want more money in one go, find the 100k machines.
Tipping: This is not a rule, but kindness never goes unnoticed.
Local Markets vs. Malls: Always keep some IDR handy, especially when exploring local markets or remote areas. Ready to haggle? Local markets are where it's at! Keep it friendly and fun. But for malls and supermarkets, prices are as-is, no haggling there.
With this money guide, you're set to navigate Bali like a pro!
5. Can I drink tap water in Bali?
Simple advice – always go for bottled water in Bali. The tap water here isn't meant for drinking. Keep hydrated and keep it bottled to stay on the safe side!
6. What's the local language? Do locals speak English?
In Bali, the melodic languages of Balinese and Indonesian dominate daily conversations. But don't fret! Many locals, particularly in tourist-rich zones, chat comfortably in English.
Quick Local Phrases:
Hello: "Om Swastiastu" (Balinese) | "Halo" or "Selamat pagi" (Indonesian)
Thank you: "Suksma" (Balinese) | "Terima kasih" (Indonesian)
Yes/No: "Nggih/Sing" (Balinese) | "Ya/Tidak" (Indonesian)
Price query?: "Kuda niki?" (Balinese) | "Berapa harganya?" (Indonesian)
Tip: A sprinkle of local dialect not only earns you brownie points but also warms hearts. Regardless, genuine smiles bridge any linguistic gaps.
7. Getting Around Bali: A First-Timer's Guide
Your must-know guide for getting around Bali:
Stay Left: Bali roads follow left-side driving. It's helpful to remember if you're from a right-driving nation.
Driving Legally: Planning to drive? An International Driving Permit (IDP) is crucial.
Scooter Scoop: Popular and eco-friendly. Always wear a helmet – it's safe and mandatory.
Car Rentals: For convenience, consider cars with private drivers; they can also serve as local guides.
Digital Taxis: Use apps like Grab or Gojek for a smooth ride without haggling.
Local Guides: To truly experience Bali's essence, opt for a local guide; they enrich your journey with stories.
8. How to Dress and Act for Balinese Temple Visits?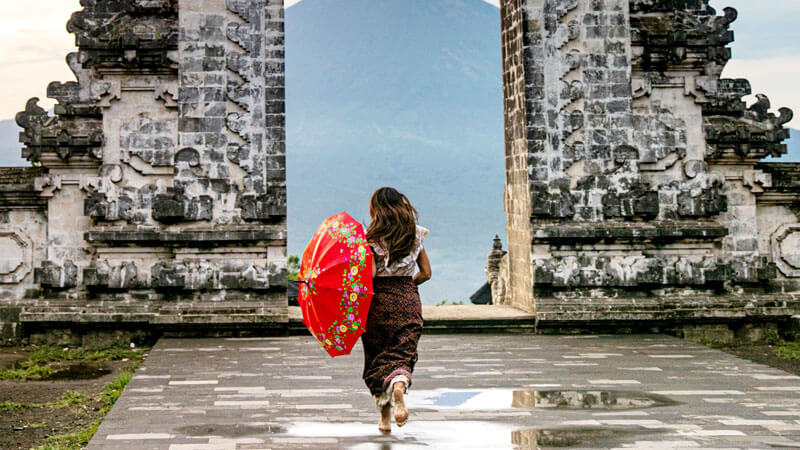 Experience Bali's spiritual side by dressing appropriately and respecting local customs. With the tropical climate, opt for breathable fabrics like cotton or linen.
Always wear a sarong when visiting temples. Even though temples might offer sarongs, it's good to bring your own. Complement your attire with comfy flip-flops and a hat to protect from the sun. Prioritize modesty in your attire.
While at the temple:
Respect spiritual shrines; avoid stepping on or over them.
Heed restricted areas, especially during ceremonies.
Women on their menstrual cycle are advised to postpone temple visits.
Follow these guidelines for a respectful temple visit experience in Bali.
9. Bali Guide for First-Timers: Powering Your Devices
When prepping for your Bali trip, it's essential to know about Bali's electricity requirements. The island predominantly uses the European-style two-pin round plug (Type C).
So, for first-timers visiting Bali, it's a smart move to pack an adapter. However, if you forget, major tourist areas like Seminyak and Kuta usually offer plug adapters to guests, ensuring you're always ready for those stunning Bali sunset captures.
10. Health Tips in Our Bali Guide for First-Timers
Planning a Bali escapade? Here are some health tips every first-timer should consider:
11. Essential Bali Spots for First-Timers: Unmissable Attractions
Discover Bali's Highlights:
Ubud: More than an art haven, the serene Campuhan Ridge Walk at sunrise is pure magic.
Seminyak: Dive deeper than its glamour – wander through local lanes bursting with tradition and savour authentic Balinese bites.
Tanah Lot Temples: Experience the tales of Bali's deep-rooted spirituality.
Nusa Penida Island: Sun-kissed beaches with hidden nooks like mysterious caves and blue lagoons.
Uluwatu Temple: Beyond its architectural beauty, the evening Kecak dance is pure Balinese magic.
Sidemen Valley: A tranquil counterpart to Ubud, showcasing lush green landscapes and a peek into genuine Balinese day-to-day.
Amed: Dive deep into its blue, home to peaceful beaches and the captivating shipwreck.
Secret Waterfalls: Sekumpul, renowned for its cascading beauty, is one of Bali's hidden wonders, offering an immersive experience in nature's lap.
Bali's allure isn't just in its famed sites. Also, understanding where to Go in Bali for first-timers can be challenging, but this First-Time Visitor's Guide to Bali: Top Destinations to Explore provides a deeper insight. Dive beneath the surface, and Bali's heart and soul await.
12. What's The Local Cuisine Like in Bali?
Are you eager to taste authentic Balinese flavours? Here are dishes every Bali first-timer should try:
Dadar Gulung: A delightful green pancake delicately rolled and generously filled with sweet coconut and rich palm sugar. It's the perfect ending to a Balinese feast.
Klepon: These aren't just sweet treats; they're bites of happiness. Imagine rice cake balls oozing with palm sugar, lovingly coated in freshly grated coconut.
13. Are There Any Local Customs I Should Know?
Indeed, Bali, with its rich cultural tapestry, has nuances that first-time travellers should be aware of:
Being aware of these customs will not only earn you respect from the locals but also enrich your Balinese vacation with a more profound understanding and connection.
14. Bali Wildlife Guide for First-Timers: A Glimpse of the Island's Biodiversity
Bali is a treasure trove of biodiversity, with each corner teeming with unique creatures that leave tourists in awe.
On Land:
Long-tailed Macaques: Often seen frolicking around temples, especially in Uluwatu and Ubud Monkey Forest. They're playful, but remember to keep an eye on your items!
Bali Mynah: This stunning white bird, adorned with blue eye rings and black-tipped wings, is more than just eye candy; it's Bali's emblem! Spot them at the Bali Bird Park.
Wild Civet Cats: These creatures play an integral role in creating the renowned Luwak coffee.
In the Waters:
Manta Rays: Plunge into the waters of Nusa Penida, and you might just swim alongside these magnificent beings.
Sea Turtles: Bask on the beaches of Gili Meno or visit the Turtle Conservation in Serangan, and you're likely to come across these ancient mariners.
15. Bali Nightlife Guide for First-Timers: Where to Go Post-Sundown
Bali's nights are as energetic as its days. Here's where first-timers can soak in the nightlife:
Where to Go:
For those considering a stay in Kuta, our Kuta Bali: An Introductory Travel Guide for Newcomers will be invaluable.
16. Shopping in Bali: What Should I Take Home?
Leaving Bali without souvenirs? Unthinkable! Bali's markets combine unique finds, from handcrafted jewellery to traditional textiles.
Top Picks:
Batik: Traditional Indonesian cloth hand-painted or printed with intricate designs.
Silverware: Ubud, particularly Celuk Village, is renowned for its exquisite silver and gold works.
Bamboo Handicrafts: Durable, sustainable, and elegant.
Balinese Paintings: Ubud is the heart of Bali's thriving art scene. Take home a piece of Bali's soul.
17. Anything Unique I Should Experience in Bali?
Absolutely! Dive into these immersive experiences for a unique Balinese journey:
Balinese Cooking Class: Learn the art of traditional Balinese cuisine from a local chef. Take back not just memories but also skills!
Spiritual Journey: Experience a guided meditation or yoga retreat in Ubud, the island's spiritual heartland.
Traditional Healing: Seek a Balinese healer or 'Balian' for a unique spiritual and healing experience.
Ecotourism: Participate in eco-conscious tours, often including tree planting, Ubud cycling tour and learning about sustainable farming or marine conservation.
Note: While exploring and indulging in these experiences, always respect local customs and traditions.
18. What About Internet Connectivity in Bali?
In Bali, staying connected is breezy. Most restaurants, eateries, hotels and cafes offer free Wi-Fi. If you're the kind who needs uninterrupted connectivity, consider purchasing a local SIM card. Popular providers include Telkomsel and XL, offering reliable 4G services. Just ensure your phone is unlocked.
19. Which Festivals and Events in Bali Are a Must-see?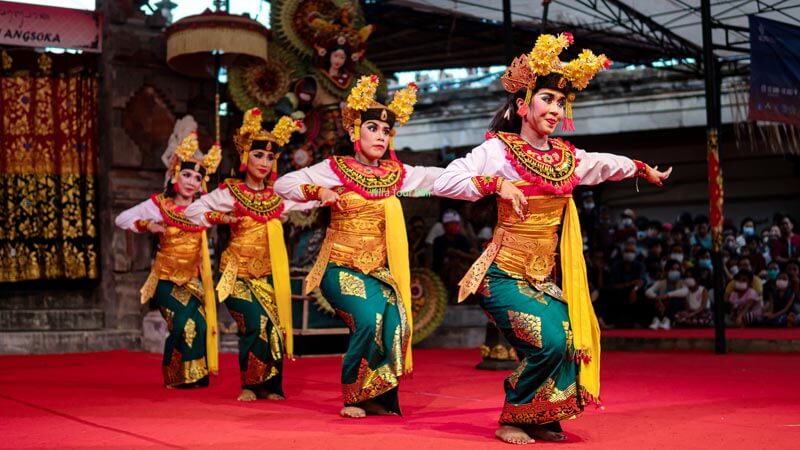 Experience the spiritual heart of Bali with these essential events:
To truly connect with Bali, plan your trip around these events.
20. What Are the Essential Items To Pack for Bali?
Pack right for Bali with:
Clothing: Summer attire, a light raincoat, and a sweater for cooler regions.
Footwear: Beach sandals, casual flip-flops, and trekking sneakers.
Protection: Must have sunscreen, mosquito repellent, and a hat.
Electronics: Chargers, a power bank, and adapter plugs.
Must-haves: First aid, medications, and travel document copies.
Pack these, along with your adventurous spirit, and you're set for Bali!
For detailed itinerary information, especially if you plan to include adventurous activities like white water river rafting, check our Initial Itinerary for White Water River Rafting in Bali.
In Closing: Bali Guide for First-Timers
Bali, in its essence, is a realm of senses waiting to envelop you in its myriad wonders. As you're pulled towards its breathtaking horizons and resonant folklore, know that the island's magic is genuinely unlocked when experienced up close.
While this piece offers a lens to view Bali for first-timers, the heart of Bali—with its ancestral rituals, verdant expanses, and genial embrace—awaits your exploration.
So, gear up, let Bali's spirit captivate you, and tread with awareness and gratitude. Bon voyage and a warm Selamat Datang to Bali!
Join the Conversation:
Do you have a Balinese cultural insight or a tip on a secluded spot? Drop a line below! If you stumble upon eco-friendly practices or places during your stay, let's chat. Sharing is caring, and together, we can craft a richer Bali narrative for all.